This Vegan Pasta Salad recipe is easy to whip up using a few simple ingredients, all tossed with a simple vinaigrette, it's customizable, can be made ahead of time and, of course – it's absolutely delicious!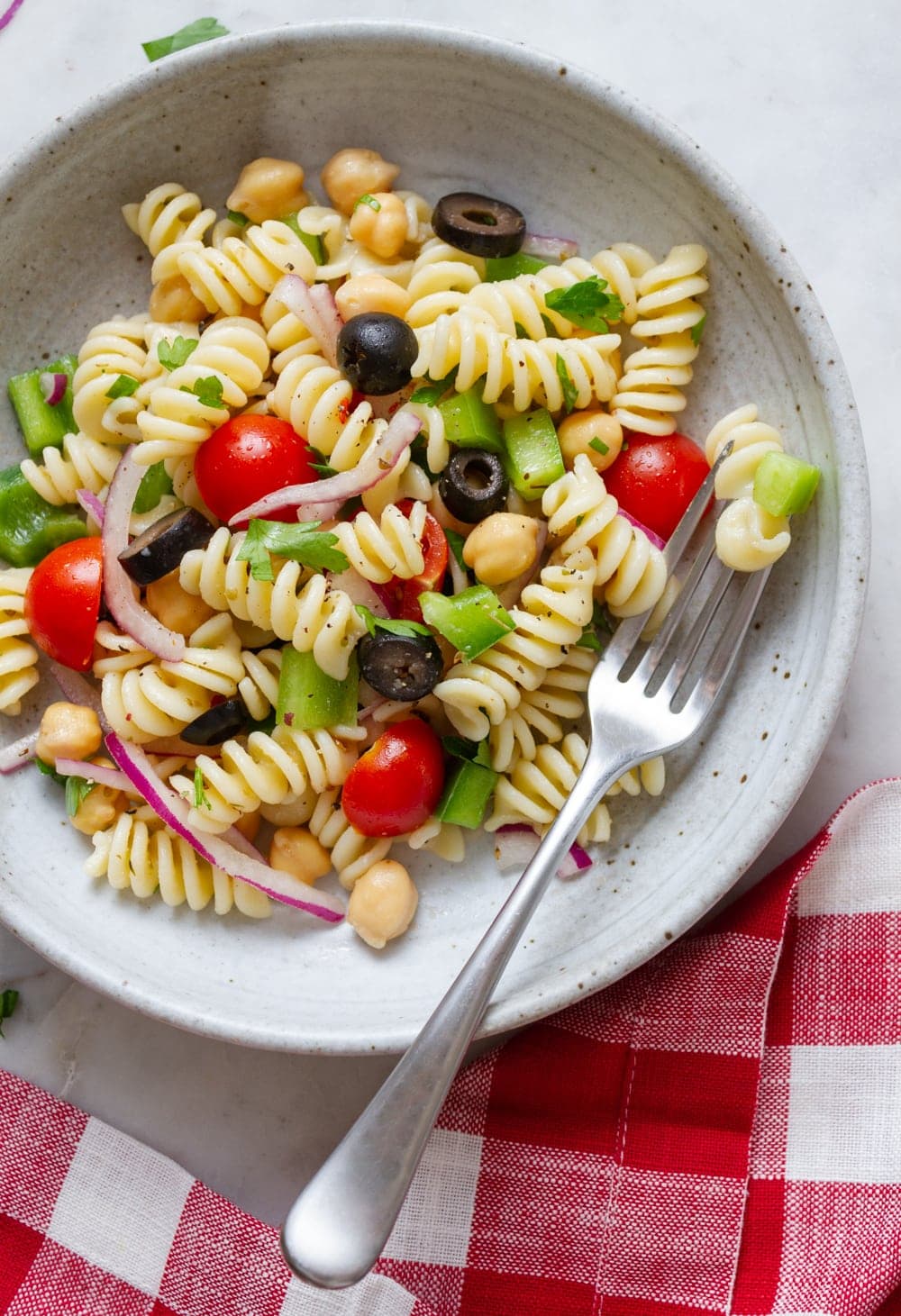 This cold pasta salad recipe will be a welcome addition to the summer months when temperatures rise, and you want a quick and healthy meal without any fuss. Vegan pasta salad can be made ahead of time, and is perfect for potlucks, picnics and BBQ's. And it's great for weekly meal prep too!
Ingredients
16 oz. pasta (rotini, penne, bow ties, elbow)
1 can chickpeas
1 can sliced black olives
1 bell pepper
1 small red onion
8 oz. grape or cherry tomatoes
1/2 large cucumber
1/4 – 1/2 cup fresh parsley, chopped
Vinaigrette
3 – 4 tablespoons extra virgin olive oil
1/4 cup apple cider vinegar (white or red wine vinegar is great too)
1 teaspoon dried oregano (Italian seasoning or Herbs de Provence is ok too)
1/2 teaspoon garlic powder
generous pinch red pepper flakes
generous pinch mineral salt and fresh cracked pepper
juice of 1 lemon, optional
Directions
Cook the pasta according to package directions for al dente. Drain and rinse the pasta under cool running water.
Mix the dressing, and prep the veggies and chickpeas while the pasta is cooking.
To assemble the pasta salad, add the pasta, colorful veggies to a large serving bowl (or the pot the pasta was cooked in), pour the dressing overtop and mix well to coat.
Serve this pasta salad at room temperature or chilled. For added flavor, add a sprinkle of Almond Parmesan before serving!
Commonly asked questions
CAN I USE A DIFFERENT TYPE OF PASTA FOR THIS COLD PASTA SALAD?
Yes, you can use any short style pasta you have on hand, such as fusilli, rotini, penne, shells, bow ties, and elbow pasta are all great and would work well in this recipe. Whole grain pasta is a healthy choice, and use gluten free pasta for diet restrictions.
CAN I ADD DIFFERENT VEGGIES TO THIS RECIPE?
Yes, feel free to use up whatever veggies you have in your fridge. I've kept it simple using bell pepper, red onion, cherry tomatoes and olives. Other diced veggies that work well are:
zucchini
cucumber
pepperoncinis
green onions
broccoli
carrots
CAN YOU MAKE PASTA SALAD IN ADVANCE?
Yes, this pasta salad can be made ahead of time, and tastes even better after it's been refrigerated. You just may want to add a little extra dressing the pasta will soak it up, this is why I love have extra lemons on had to squeeze overtop adding a nice lemony flavor. If taking to get togethers, I would suggest to make it no more than 24 hours in advance for best quality.
HOW LONG IS PASTA SALAD GOOD FOR?
This cold pasta salad is great for meal prepping and will last for up to 5 days, if kept tightly sealed in an airtight container in the refrigerator. It's always best to toss the salad before serving.
Source: The Simple Veganista
This site displays Affiliate links. Click here to read the Disclaimer.