Hands up if you'd recently bought an air fryer, thinking that you can finally make guilt-free fried food.
Technically, you'd be right as these kitchen gadgets don't require much oil – about a tablespoonful or none at all – to fry up chicken, nuggets, spring rolls or samosas.
Like fries and chilli sauce, it all goes so well with your resolve to lose the weight gained over the circuit breaker period and get trim, doesn't it?
And look at the amount of calories you'll be saving.
It's just 174 calories for an average-sized air-fried drumstick, said dietitian Goh Qiu Le from Changi General Hospital's Dietetic & Food Services in Singapore. A far cry from the whopping 367 calories that its deep-fried counterpart offers.
Another plus? You don't have to compromise on flavour and texture.
"For example, a healthier take on fried chicken with roasted potatoes can be prepared with an air fryer using minimal cooking oil, instead of subscribing to the conventional steamed chicken breast and boiled broccoli," said Goh.
Of course, looking good in leggings isn't the only reason to cut down on your calorie intake.
Back in 2007, researchers had already found the link between the consumption of deep-fried foods and obesity through a study on over 33,000 people between the ages of 29 and 69 in Spain.
Essentially, the more fried food you eat, the higher your risk of obesity.
And obesity isn't just a cosmetic concern; it is a precursor to diseases such as heart disease, diabetes, high blood pressure and certain cancers, according to Mayo Clinic.
But are there any other things you should know about when it comes to using your air fryer?
We tackle a few other questions you might have.
DOES USING 'HEALTHY' OIL ADD NUTRIENTS TO AIR-FRIED FOOD?
While oil does help our body to absorb fat-soluble vitamins such as Vitamins A, D, K and E, you don't need to add oil for that purpose when cooking with an air fryer, said Goh.
"I would advise against adding nutrients to our diet by using more oil than necessary, regardless of whether the oil is branded as 'healthful' or otherwise. Heart-healthy oils or fats can be derived from food sources that are more palatable, such as unsalted baked nuts, and oily fish such as salmon and sardines."
ARE YOU REALLY COOKING HEALTHIER WHEN USING AN AIR FRYER?
Even if you've omitted oil, you may not necessarily be cooking healthier food. For instance, you could be air-frying up processed items such as nuggets, fries, fish fingers and squid balls because, well, the air fryer makes it so easy.
And that defeats the purpose of you trying to eat healthier.
"Eating air-fried processed food does not constitute healthy eating as processed food is generally higher in salt and fat," said Lim Kiat, a senior nutritionist with Singapore Heart Foundation. "The excessive consumption of processed food could lead to an increased risk for chronic diseases, such as cardiovascular disease, regardless if it is air-fried or deep-fried."
Compared to deep frying, air frying does create healthier food with less fat.
But a lot also rests on what ingredients you're using.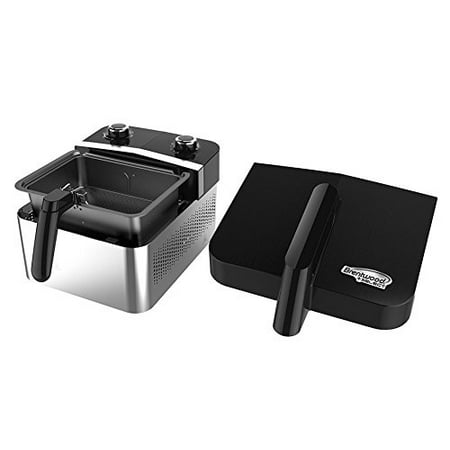 For instance, a deep-fried battered drumstick has 12.8g of total fat, while an air-fried version with herbs and spices has 6.1g of total fat, said Lim. That's shaving off half the amount of fat.
And instead of store-bought frozen nuggets, Google a recipe that lets you make a more wholesome version by omitting the preservatives, and reducing the salt and fat.
WHAT ABOUT AIR FRYING VEGGIES?
Of course, the air fryer isn't just limited to meats. "Air-frying vegetables is very similar to roasting," said Goh. "Cruciferous vegetables (such as broccoli and cauliflower) and root vegetables (including potatoes and carrots) are examples of vegetables that can be prepared in an air-fryer."
To maximise your vegetable's nutrients, watch the cooking duration and temperature.
"The temperature typically ranges from 180 degrees Celsius to 190 degrees Celsius, but it is also dependent on the type of vegetables used," said Goh.
For instance, softer vegetables, including broccoli and cauliflower, will require a shorter cooking duration compared to firmer ones such as carrots and pumpkin, said Lim.
Related: Managing High Blood Pressure Through Diet and Lifestyle Change
Another tip: Pre-heat the air fryer for at least three minutes before cooking, said Lim.
And shake the tray once or twice to help promote even cooking and reduce the cooking duration.
What's your input on using an air fryer? Please leave your comments below. Thanks!
This site displays Affiliate links. Click here to read the Disclaimer.