This low-carb and low-calorie breakfast bowl is a quick and High Blood Pressure and Diabetes-friendly option for breakfast or brunch.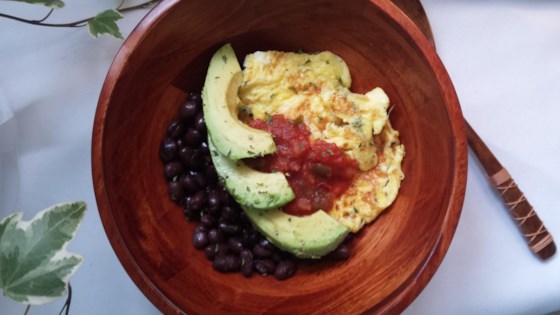 Total time: 5 mins
Servings: 2
Ingredients:
2 tablespoons olive oil
4 eggs, beaten
1 (15 ounce) can black beans, drained and rinsed
1 avocado, peeled and sliced
1/4 cup salsa
salt and ground black pepper to taste
Directions
Heat olive oil in a small pan over medium heat. Cook and stir eggs until eggs are set, 3 to 5 minutes.
Place black beans in a microwave-safe bowl. Heat on High in the microwave until warm, about 1 minute.
Divide warmed black beans between two bowls.
Top each bowl with scrambled eggs, avocado, and salsa. Season with salt and black pepper.
Nutrition Facts
625 calories
38.8g fat
46.6g carbohydrates
27.9g protein
372mg cholesterol
1158 mg sodium. Full nutrition
Source: allrecipes.com
This site displays Affiliate links. Click here to read the Disclaimer.